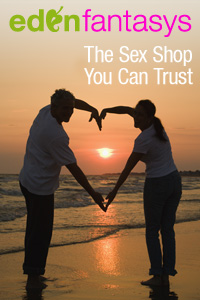 I figured for this months
EdenFantasys
review I figured we'd cover a book. I know you're probably going WHAT THE HELL THIS ISNT A BOOK CLUB! However, I think you'll like the book I suggested! "How to Give a MindBlowing Blowjob".
Oh yea, you're eating your words now arent ya?
The
b
ook was smaller than I thought it was going to be which is nice, could fit well into a purse to read on the go. (Very fun to read on the bus, guys double take and smile... they take it as an open invitation to advance. "Can I help you practice?")


I never considered myself even remotely good at giving head so I thought the book would be helpful and it was. Except for a minor mishap during my first practice session where I sliced the guys dick with my back teeth. (Oops!) My mouth is just too small for oral... or at least porno oral (deep throating, fast in & out ect).

I rather enjoyed the book however and it spurred a couple good ideas for clips! (See)


The book is broken down into five sections:


Oral Studies
Tickle His Pickle
Lucky Stiff
The Big Gulp
BJ Blunders

I personally loved the tips for how NOT to injure him however #18 is slightly difficult. I haven't mastered it and he's now slightly scared of it. If I'm going down on him he gets this stern look in his eye and says "You're not practicing #18, right?"

I have full intention of giving it as the wedding present for everyone I know who's getting married with a card that says "this is the true path to a happy marriage".