This month's toy is the Waterproof Travel kit; first off this review is going to be slightly difficult since the Mini-Massager piece arrived defective (thankfully I had two others).

I made several videos with this toy (that can be found here) The attachments aren't really anything special and in a few of the videos you can actually see me get bored even though its on its highest setting and all the way in. I found with this toy you need to have other stimulation at times and not just the toy (unlike the silicone finger bunny I previously reviewed)

As far as "travel" goes, I'd recommend you find a different more effective travel companion. Yes, it breaks apart and is easily store in luggage and what not.

Parts can be separated so if the TSA does decide to rape you they aren't pulling out an obvious sex toy. That's really the only perk this toy has.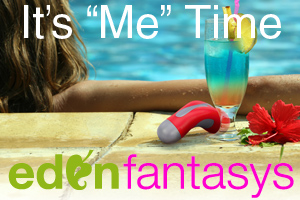 If having your toy suddenly revealed is something that you worry about I suggest you get a discreet toy instead of one that breaks apart. EF has a wide line of discreet toys from lipstick to pens to make-up brushes to compacts.

The attachments were difficult to remove from the mini-massager (might be because the mini-massager that came with it was defective and I had to use another. Kind of annoying that it might make a difference)

Over all I am disappointed with this toy and would not recommend it to others.