In this review I will be talking about my "free gift" it was "EdenFantasys Vibrating Ring -- Cock Ring". The ring normally retails for $5.99 and when I saw it was being offered for free I thought "Why not?"


First off, the EdenFantasys cock ring was purple and the part that holds the vibrator has a decorative butterfly. I have to say that for me I found the color and butterfly inapprorpiate. Not what I would have designed for a dick. The picture on EdenFantasys made the ring look clear which made the purple color even more surprising.

I'd never tried a cock ring before so I figured "free" was the best way to get started. However, I am sorry to report I still have not tried a vibrating cock ring because mine showed up defective. It vibrated for about a half a second and then was dead. Packaging states that it should give up to 30 minutes of vibrating action.

"Don't worry little guy, it happens to a lot of toys...."

For those that don't know what a cock ring is its main purpose is to prolong an erection and the ones that vibrate (like this one is supposed to) give a little more stimulation. Unfortunately this ring didn't just fail on the vibrating front for me but on the prolonging the erection. I tried it on three guys, none of which felt like they were wearing anything and their erections lasted just like normal. Sadly disappointing.

I may try to replace the "non replacable" batteries or get another one with my next purchase, but as for this one I have nothing else to say.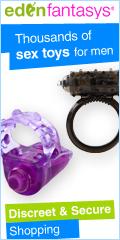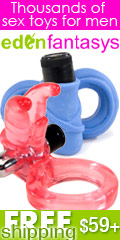 Coming up...
Coquette Babydoll
Fishnet Stockings
Veined Double Bender
Multi-Speed Basic Vibrator