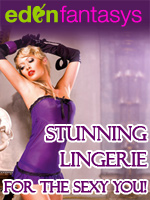 This
babydoll made by coquette
is my first piece of lingerie I have bought from
EdenFantasys
, and I had A LOT of worries in doing it. I was afraid that the thong wouldn't fit right or that the underwire wouldn't fit or be uncomfortable.
With my petite frame the perfect piece of lingerie is difficult to find but this piece fits like a charm.
When I first took it out of the package I started to fear that my original concerns might be correct. I'd ordered the smallest size and was fearful that it might still be too big, especially in the bust.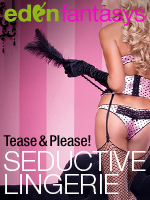 I'm happy to report that I was wrong. The thong excentuates the curves in the ass and the underwire (once the straps are adjusted properly) is comfortable and does not interfer with play while having sex in this outfit.
The baby doll is made up of lace, mesh and (what I'm assuming is) satin straps. The straps are light weight and don't put too much strain on the shoulders. I barely noticed the straps were there. The lace is extraordinarily beautiful and it covers up the naughty parts to give the perfect tease. The lace is also sturdy, not filmsy at all so you don't need to worry about accidentally ripping it.
The underwire gave my large A breasts the perfect amount of support, however I believe if I was much larger it would not have given equal support. It does have a small hook and eye closure in the back. You can unhook it if you need a little wiggle room however I did not feel that was needed.
Over all I'm very happy with this purchase!