I received the Multi-speed Basic Vibrating Bullet as a free gift and over all I have to say that I'm glad that I didn't pay for it. While it is a great toy that can take you from zero to squirt in a matter of seconds I also found that if this sex toy didn't get me there in the first few seconds (no longer than a minute) then it wasn't going to do it. Which was sort of frustrating!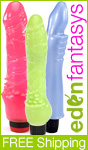 The toy is easy to handle and has a nice smooth texture that once lube is added is able to glide over all of your sensitive parts and the controler fits nicely in your hand, it's light weight and very powerful, however prolonged use (more than three minutes) can cause you to go slightly numb.
I did not like how loud the toy was at its highest setting. Made it slightly hard to be discreet.

Over all, this toy is decent for a "quickie" or to use to get your juices flowing for a bigger toy or a real cock. However, I think there's got to be better options out there are far as sex toys go.